Knowledge management is the conscious process of defining, structuring, retaining and sharing the knowledge and experience of employees within an organization. Its main goal is to improve an organization's efficiency and save knowledge within the company. Typically, knowledge management consists of manual cycles of creating, sharing, structuring and auditing knowledge, in order to maximize the effectiveness of an organization's collective knowledge.
Knowledge management is thus a strategic goal for organizations. A successful implementation of knowledge management mechanisms requires a lot of managerial attention as well as dedicated functions to lead it.
In this piece, I would argue that – at least in a manufacturing setting – Big Data and Artificial Intelligence represent a meaningful opportunity to streamline, automate to a large extent and turn more scalable the process of knowledge management and specifically that of Knowledge Retention.
Manufacturing operations pose unique challenges in this regard, as typically the lion share of the production work is relatively simple, and hence there is less need for knowledge retention. However, the exceptional complex manufacturing tasks require unique expertise that is the domain of just a few experts in the organization, whose knowledge is based on experience and heuristics. Therefore, their knowledge and expertise can't be retained or transferred easily. These complex tasks that are performed by those experts are key contributors to the competitive advantage of a company. This challenge is best illustrated in the following chart:
The Manufacturing Knowledge Retention Challenge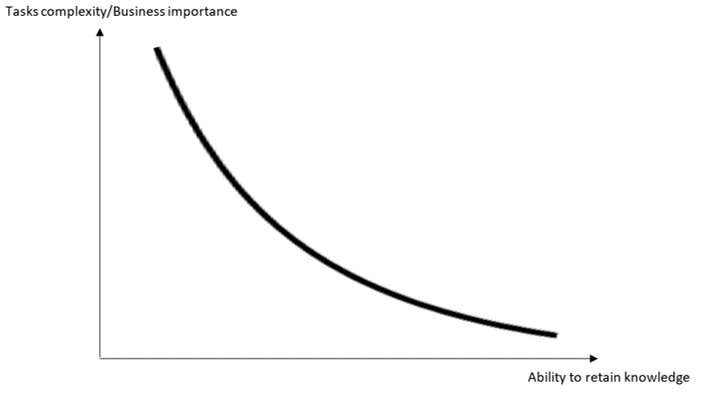 On top of the business importance, it is important to note that the lack of sufficient knowledge retention mechanisms become an HR issue for companies due to multiple aspects that are related to the most highly skilled, expert employees: attrition, retirement, compensation and mobility.
We at PrintSyst are working closely with our customers on creating scalable, automated and efficient 3D printing operations, leveraging the power of Artificial Intelligence. Artificial Intelligence (AI) algorithms basically utilize large datasets – hence the importance of Big Data existence in the organization – and are able to derive instant and actionable insights based on past behavior patterns.
When you think about AI, your top of mind association is probably related to automation and efficiency. These were also our expectations. However, this is not the entire story;
We were surprised to discover over time, that AI's ability to connect so many dots in a structured manner, combined with its ability to improve over time (machine learning), has enabled our customers to structure and turn scalable a lot of the hands-on rare expertise that is required for more complex 3D printing tasks.
Following implementations of the AI engine at our customers' sites, two positive outcomes occurred in chronological order: First, a highly automated knowledge retention mechanism had been created. Second, the valuable few experts at our customers' sites were able to allocate their time more efficiently, as they now deal mostly with relatively exceptional edge cases. In these situations, AI's predictions are borderline and require further human discretion. These exceptional cases are clearly flagged by the AI engine.
In one of my favorite cases, this actually enabled the well-deserved promotion of a highly skilled expert to a managerial position, as he was able to become less occupied with hands on management of his relatively junior staff at the 3D printing production line.
To summarize, I strongly recommend that while you assess AI's potential to support your company's growth, you should take into account also AI's ability to step-change your company's knowledge management capabilities in connection with the most valuable, highly skilled employees. A recent success story of a 3D printing operations in the Aerospace industry might be a good reference to take into account as you consider your next steps in addressing this strategic issue.