Valuechain's DNA.am MES Solution Now Integrates PrintSyst's Cutting Edge AI Engine, Paving The Way For Scaled UP Industrial 3D Printing Operations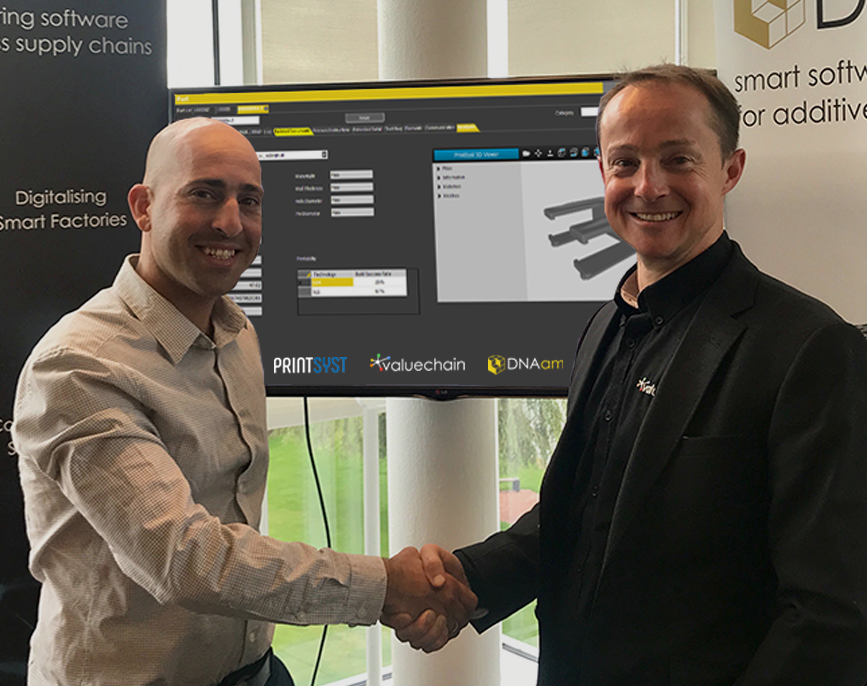 Today marks an important milestone in the strategic partnership between Valuechain Enterprise Systems ("Valuechain") and PrintSyst, upon completing the integration of PrintSyst's cutting edge AI engine, the 3DP AI-Perfecter™, into Valuechain's industrial-grade MES, DNA.am.
The two companies have partnered to develop an integrated MES that will leverage PrintSyst's world class AI engine, which enables an automated pre-printing workflow and thus assists customers in industries such as Aerospace, Automotive and Defense, to significantly improve their productivity and scale up their 3D printing production.
Unique Capabilities That Enable Scaling Up Industrial 3D Print Operations
The integrated Valuechain-PrintSyst solution provides a state-of-the-art smart automation that learns from previous Additive Manufacturing builds and analyses the exact intent for which a specific part is going to be used to comply with industry specifications. It then accordingly suggests printing parameters that will have the highest probability of right-first-time Additive Manufacturing builds, accurately estimates 3D parts costs, recommends on the most suitable materials to be used based on 3D parts' functional needs and eliminates the need for trial and error. Bottom line, this paves the way for transforming 3D Printing productivity through improved quality, cost and delivery responsiveness.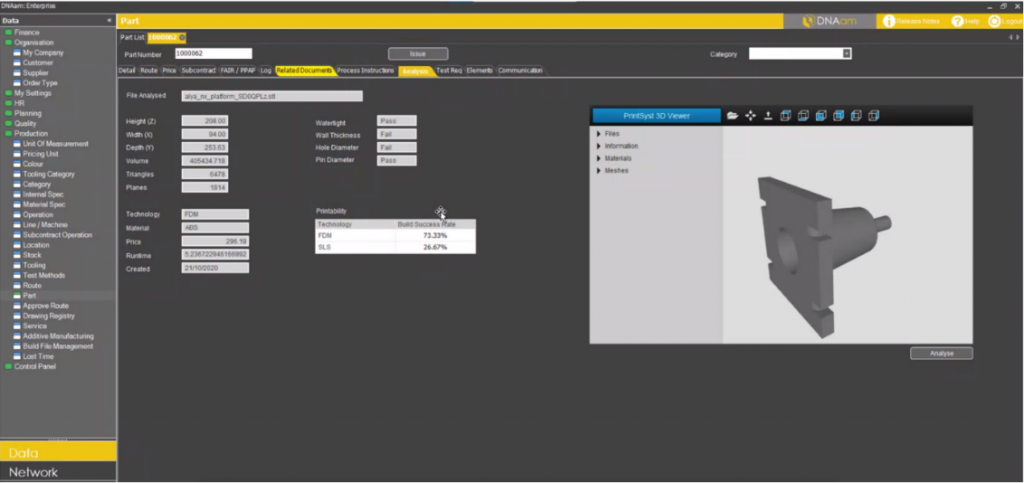 Valuechain's DNA.am with the integrated PrintSyst AI engine
Tom Dawes, CEO of Valuechain, commented that "Industrial 3D printing has continued to grow over recent months, as companies that initially trialed the technology are looking to scale up. Covid-19 has illustrated the importance of a robust supply chain structure, underpinned by secure collaboration and intelligence. However, many of these companies lack the digital solutions that drive 3D printing productivity while providing a path for an automated, standardized and certifiable digital workflow. Based on our customers' feedback so far, I am confident that our collaboration with PrintSyst will be pivotal in addressing this critical need."
Itamar Yona, PrintSyst's CEO and co-founder, added that "combining our world class AI engine and hands on industry experience, with DNA.am's leading industrial-grade MES, will step change the manual, costly and unscalable 3D printing workflow. We are now able to take into account multiple additional parameters that exist in DNA.am MES and automatically train our engine so we can provide instant, highly personalized and optimized printing recommendations to our joint customers."
About DNA.am:
DNA.am is a global additive manufacturing software company, that offers solutions to digitalize the additive manufacturing sector throughout advanced manufacturing supply chains. Working closely with industry leaders, academia, advanced manufacturing OEMs and AM machine manufacturers, DNA.am provides technology that underpins digital additive manufacturing production to align with Industry 4.0. A member of the Valuechain group, DNA.am supports companies in UK, Central Europe, India and North America and is a globally recognized brand in the additive manufacturing sector.
About Printsyst:
PrintSyst.ai uses state of the art, patented Artificial Intelligence algorithms, combined with hands-on printing experience, to revolutionize the 3D pre-printing process. PrintSyst.ai enables an automatic, instant, accurate and efficient 3D pre-printing process.
The company has strategic collaborations with leading academic figures as well as key industry players to drive this revolution and offer the most value to its customers.