UK-Israel Partnership Receives £600k Innovation Funding
UK-Israel Partnership Receives £600k Innovation Funding to Develop Gamechanging AI that will accelerate Additive Manufacturing Productivity
British Additive Manufacturing software company, DNA.am Ltd and Israeli 3D Printing AI Start-up Printsyst, today are announcing a strategic partnership to develop an integrated Artificial Intelligence solution to scale and optimise Additive Manufacturing in the aerospace sector.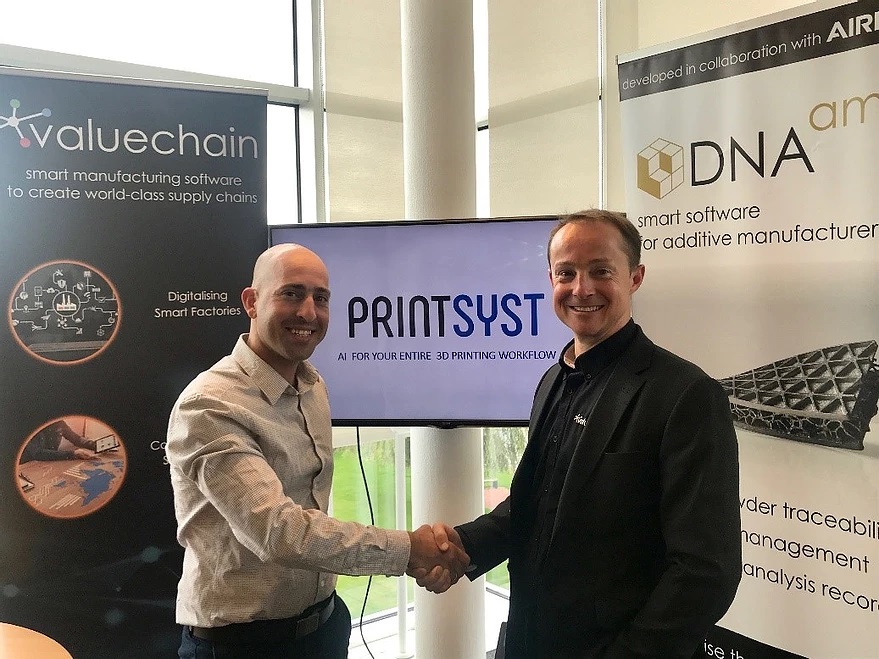 Left to Right: Itamar Yona (Printsyst Ltd. CEO) and Tom Dawes (Valuechain and DNA.am Ltd. Chairman)
Funded by Innovate UK and the Israel Innovation Authority, the collaborative innovation project will combine the many 3D printing data sources (captured by DNA.am's Manufacturing Execution System), with Printsyst's patented 3D printing Artificial Intelligence engine; to develop an AI and deep-learning solution that enables global aerospace manufacturers to improve productivity and scale-up their 3D printing operations.  According to Hoover's Research (2018), the Aerospace Additive Manufacturing industry is forecast to reach a value of $20.9 billion by 2024; and Tom Dawes, Chairman of DNA.am's parent company – Valuechain Enterprise Systems – believes that focusing on AM productivity is a critical enabler to unlocking this growth potential.  Dawes commented "Aerospace companies continue to invest heavily in AM plant, but are yet to implement smart solutions that optimise plant and resource efficiencies. Driving AM productivity and generating tangible return on investment has to be the priority for the AM ecosystem. By combining DNA.am's streamlined data capture and aerospace traceability with Printsyst's AI optimisation engine, we are confident that our integrated solution will standardise best practice processes for growing companies and accelerate AM adoption in the aerospace sector and other highly regulated sectors." Printsyst CEO, Itamar Yona commented "In our experience, AM organisations are unfamiliar with best practice AM workflows and the many parameters required for 3D Printing optimisation, such as geometry, material or which AM technology to select. So, when they're creating a new AM build, it will often take several attempts before reaching a version which is a real fit for purpose, resulting in a very expensive and time-consuming process.  Through our strategic partnership with DNA.am and Valuechain, we will create an integrated solution that learns from previous AM builds and analyses exact intent for which the part is going to be used to comply with industry specifications, and suggest printing parameters that will have the highest probability of right-first-time AM builds. Our solution will accurately estimate AM component costings and eliminate need for trial and error, which will ultimately transform AM productivity through improved quality, cost and delivery responsiveness."DNA.am and Printsyst will showcase the prototypes for this project at Formnext, November 19th-22nd.  About DNA.am:DNA.am is a global additive manufacturing software company, that offers solutions to digitalise the additive manufacturing sector throughout advanced manufacturing supply chains. Working closely with industry leaders, academia, advanced manufacturing OEMs and AM machine manufacturers, DNA.am provides technology that underpins digital additive manufacturing production to align with Industry 4.0. A member of the Valuechain group, DNA.am supports companies in UK, Central Europe, India and North America and is a globally recognised brand in the additive manufacturing sector. About Printsyst:Printsyst is a 3D printing AI engine for the aerospace industry. It optimizes quality, speed, energy consumption in compliance with industry's regulation. The company patented algorithm facilitates the identification of parts functionality and improves printing success rate. Printsyst already collaborates with academic and commercial 3D printing service providers in Europe, Asia, Australia, and the United States.